A true five-star meal doesn't just happen. Ingredients must be of the highest quality, the recipe likely has seen hundreds of iterations, and a skilled chef is essential in terms of the timing and execution of each meticulous step. As elusive as the five-star meal is, when someone has the pleasure of experiencing one, it is unmistakable. The same can be said of a five-star, full-service training experience. Which entails high quality equipment, subject matter expertise, and a five-star trainer that never gives up on his students. One of the many students that have had the opportunity to experience this is Charlie Mantei, of the Northern California Power Agency (NCPA).
Charlie is a Hydro-Technician with emphasis on welding and machining for NCPA and takes a great deal of pride in the work he does for the organization. With his concentration on welding and machining, Charlie's load handling and rigging activities are limited to an annual shut down and maintenance session. The irregularity of work in these highly specialized disciplines puts an emphasis on keeping those skills sharp and adding additional knowledge throughout the year. In Charlie's case, he is fortunate to have buy-in from leadership at NCPA when it comes to skill building and continuous improvement, which eventually manifested itself in a recommendation to the ITI Master Rigger Course.
After conducting some research on the Master Rigger Course, Charlie was able to secure a seat at the ITI Woodland, Washington Training Center in June 2019. Buckle up, because this is where things really start to get good…
Charlie being Charlie, and looking to get absolutely every ounce of value out of the training investment NCPA placed in him, identified the Basic Rigging & Inspection Course from ITI Online as a perfect precursor to his scheduled Instructor-Led Training. Delivered in a browser based, online, and on-demand format, Charlie was able to complete the course at his own pace, on his terms and some days even on his mobile device. He found the format to his liking and continued on to the Advanced Rigging Course. Charlie's internal drive and desire to build his skills resulted in the following:
Anxiety about the challenges to come in the Master Rigger Course dissipated completely
He felt fully prepared and confident that he would get the most out his training
A desire for a pause and rewind button for instructor-led training (ITI R&D is working on this request)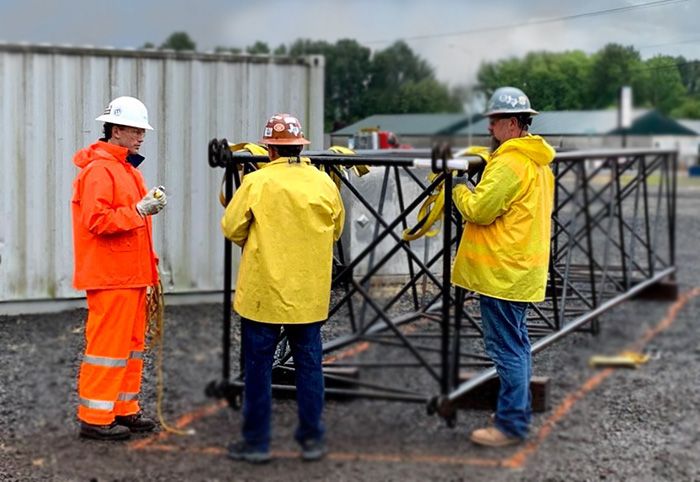 Paris Bishop served as Charlie's Master Rigger Instructor, and the two men share some common ground in terms of professional experience. Before joining ITI, Paris' field experience included installation, inspection, and testing of hydraulic power systems (amongst many, many, many other things).
Following the Master Rigger Course, Paris was effusive in his feedback and future outlook for Charlie. Characterizations included "very assertive," and "meticulous," in terms of his trade. Based on what was seen in the classroom and in the field, Charlie shows high attention to detail to avoid trouble or risk in the workplace. At the end of the day, Mr. Bishop paid Charlie one of the highest compliments possible by saying he wishes that more people like Charlie were involved in trades and industry.
Jacklynn Burbank
Aside from vocational training and helping others, Jacklynn has a true passion for fishing. Although she is drawn to all types of fishing, of particular interest is salmon trolling and deep sea fishing in Southeast Alaska, where she resided before relocating to Southwest Washington.