---
ITI offers a wide range of rigging training courses, including basic rigging and inspection courses, master rigging training, rigging equipment inspection training, entertainment rigging courses, and more opportunities to develop your rigging knowledge and skills. Our selection of courses supports people across many rigging positions and is specific to knowledge level and rigging type. ITI can deliver rigging courses at your location, ITI Training Centers, and on-demand through our online ITI Learning Hub.
Facilitated Instructor-Led Training Courses
Our Instructor-led training courses are guided by professional subject matter experts who boast more than 200 years of combined field experience. Instructor-led courses are offered at each of our national training centers, but we also accommodate instructor-led training at your location and even provide access virtually including NCCCO Crane Operator Certification Prep.
Register for instructor-led training courses at one of our local training centers below, or view the complete schedule for all locations.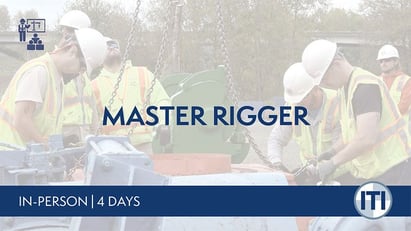 ---
Master Rigger
4 Days | The ITI Master Rigger Course is designed for participants that have had some exposure (2-10 years) to crane and rigging operations. The course exposes participants to a variety of equipment and applications which include multiple crane lifts, load turning, load drifting with chain hoists, jacking and rolling using mechanical, pneumatic and hydraulic systems, incline planes and managing the center-of-gravity in all three axes.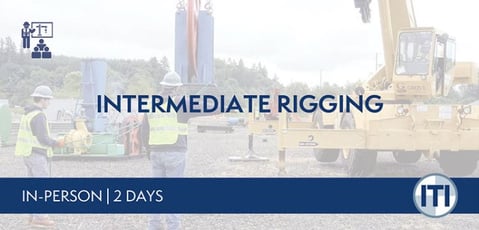 ---
Intermediate Rigging
2 Days | This course is designed for the beginner to intermediate level person whose work assignments involve some rigging activity. All industries and their employees who handle and move load s or products in the course of their daily activities would benefit by taking the ITI Intermediate Rigging Course.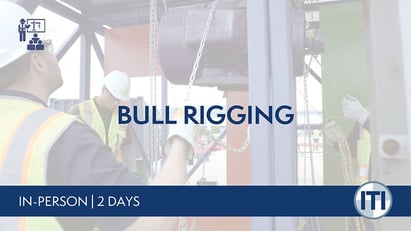 ---
Bull Rigging
2 Days | This intermediate to advanced course focuses on planning for and utilization of chain hoists and other similar devices to drift, upright and turn loads. At least half of this course involves hands-on activities moving loads into and out of an engineered structure, vertically through hatchways and through various other openings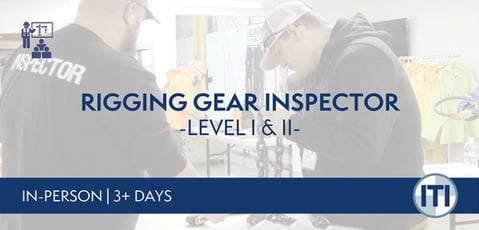 ---
Rigging Gear Inspector Level I & II
3+ Days | The Rigging Gear Inspector Course is designed to build and enhance the skills of the student to become a qualified, in-house rigging gear inspector. The course includes classroom sessions and multiple hands-on inspection activities. Participants learn the removal criteria for wire rope, wire rope slings, synthetic web and round slings, chain slings, rigging hardware and below-the-hook lifting devices according to the applicable federal and provincial regulations as well as ASME standards.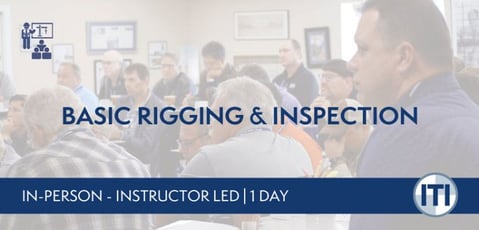 ---
Basic Rigging & Inspection
1 Day | The Basic Rigging and Inspection Course is designed to provide participants with a basic level of knowledge of rigging gear inspection, proper rigging procedures, and load control using typical rigging techniques. Classroom interactive, and problem-solving workshops.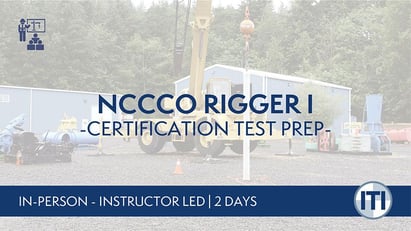 ---
NCCCO Rigger Level I Prep
2 Days | A Certified Rigger Level I can perform simple, repetitive rigging tasks when the load weight, center of gravity, rigging, and rigging configuration are provided or known by the rigger through experience or knowledge of: rigging inspection, rigging identification, hitch configurations and capacities, basic knots, hazard recognition, signaling operations, and use of various types of rigging equipment and their applications.
View all of ITI Rigging Training Courses
Instructor-Led, Online, Simulations, Field Resources, and more all cranes, all the time...
VIEW ALL RIGGING TRAINING TITLES