1,300+ Complete ITI Mobile Crane Operator Certification Survey for Apple Watch
On June 5, 2015, Industrial Training International (iti.com) released a survey regarding Mobile Crane Operator Certification including questions about respondent's understanding and awareness of the OSHA Cranes & Derricks law that is expected to take to effect in 2017. The survey also aimed to gauge respondents' perspective on test-preparation training options.
The survey offers all respondents an ITI coupon for training and one lucky winner an Apple Watch. Due to an overwhelming response, the survey will close on Friday, June 12, 5pm Pacific Standard Time.
Preliminary results show a few interesting trends including:
40% of respondents were unaware of the changing OSHA regulations

1,362 total respondents by June 9, 2015

Over 1,200 (89%) of the respondents are mobile crane operators or work closely with mobile crane operators
Here are a few graphs highlighting findings from the survey. ITI will be conducting a comprehensive analysis of the findings after the survey closes. To learn about the other questions asked, and to enter to win the Apple Watch.
The respondents that completed the survey were from various age groups which provided well-rounded feedback.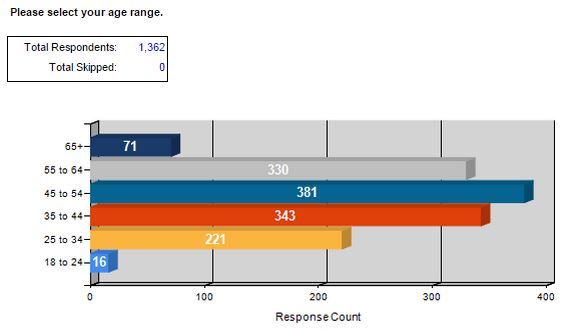 Nearly 40% of survey-takers were unaware of OSHA's law changes that are expected to be in-effect in 2017.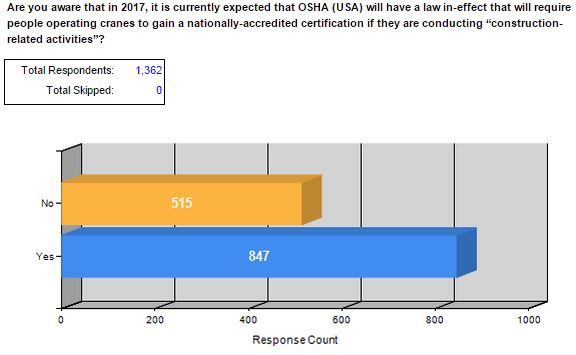 Interestingly, a strong majority of respondents believe that most mobile crane operators are not currently certified and in compliance with the 2017 law.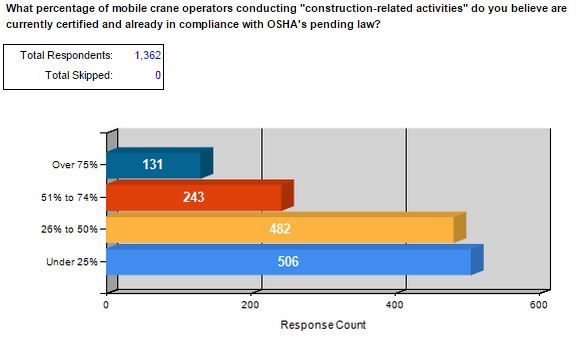 The survey was designed to divide respondents into the three groups listed in the graph.
39% of respondents categorized themselves as having operated mobile cranes.

50% of

respondents categorized themselves as not having operated mobile cranes but working closely with operators.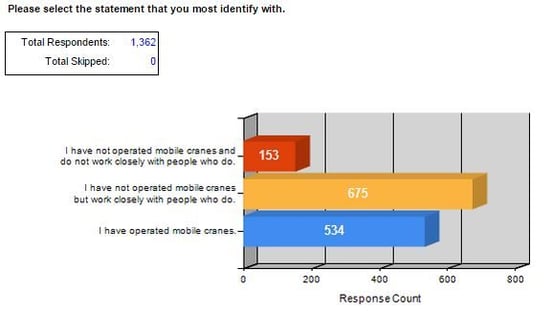 For more information, please email info@iti.com.