3 Books Every Crane & Rigging Professional Should Read
There is a list of books that every investor should read, that every parent should read, that every baker should read, and even a list that every pirate, or pirate lover, should read. However, a comprehensive quest of all the internet's search engines yields exactly ZERO lists of books that every crane and rigging professional should read.
That is, until now!
Whether you are a greenhorn operator or have 40 years of experience lifting loads all over Earth and Mars, here are three books that every crane, rigging, and load handling professional must have.
Authored by Jim Wiethorn, PE of Haag Engineering, Crane Accidents uses a sample of over 500 accidents between 1983 and 2013 as an instructional tool. The 221-page paperback provides an overview of causes, trends, and industry specific situations and events that ultimately lead to an accident. Lessons to take away from this immense compilation of data are invaluable to all in the industry and specifically used to enable crane owners, users, manufacturers and standards committees to identify potential problem areas to help ensure future success and safety.
Crane accident events analyzed in this text come from all industries including - commercial construction, manufacturing, transportation (highway/bridge), residential construction, marine, logging, oil and gas, offshore, and general industry. Crane Accidents also delves into the current state of crane training and their effect on the industry as a whole, including what lead to the formation of ASME B30 Standards.
Crane Accidents: A Study of Causes and Trends to Create a Safer Work Environment is available from the ITI Bookstore for $249.00.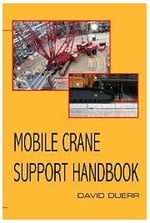 An understanding of the design and engineering of supports for mobile crane installations is essential to the majority of load handling activities featuring a mobile crane as the load handling equipment. Mobile Crane Support Handbook by David Duerr, PE does exactly that, while also addressing a full gamut of subjects needed for the engineering of mobile crane support in construction environments.
Other topics covered include:
Support Reactions From Crawler & Outrigger Supported Cranes
Soil Bearing Capacity
Analysis of Subsurface Structures
Practical Design Methods
Industry Standards & Regulations
Mr. Duerr has been active in the specialized heavy rigging and transportation industry since 1974 as an employee, business owner, and subject matter expert. He currently serves as vice chair of the American Society of Mechanical Engineers (ASME) Below-the-Hook (BTH) Standards Committee, as a member of the ASME B30.1 Subcommittee (Jacks, Industrial Rollers, Air Casters, and Hydraulic Gantries), and the B30.20 Subcommittee (BTHLDs), also as an alternate on the ASME B30 Main Committee. In 2004, Mr. Duerr served on the Specialized Carriers & Rigging Association (SC&RA) Telescopic Hydraulic Gantry Task Force.
Mobile Crane Support Handbook is available from the ITI Bookstore for $39.00
J. Keith Anderson, Chief Rigging Engineer, offers his contribution to the rigging and hoisting industry with a dynamic, educational title: Rigging Engineering Basics. A comprehensive text for rigging engineers, lift planners, advanced riggers, field engineers, site supervisors, and the like, Rigging Engineering Basics is a must-have reference guide for all personnel involved in rigging and lift planning activities.
Rigging Engineering Basics intends to inform key employees planning rigging operations and point them in the direction of best practices, bring to light pitfalls and how to avoid them, and offer instruction of certain basic rigging engineering tasks. Lifting operations are universal to all industries including, oil and gas, construction, power generation, pulp and paper, manufacturing, and many more. As well as being universal, lifting is also one of the most hazardous activities routinely encountered on a job site, making Rigging Engineering Basics a must read for all in the rigging and hoisting world.
Mr. Anderson possesses over 35 years of experience in the heavy lifting industry, with international experience with industry leaders, Kramo Montage, Van Seumern UK (now Mammoet UK), Sarens and since 2000, Bechtel. In addition to his excellent experience, Mr. Anderson volunteers his time as a member of the American Society of Mechanical Engineers (ASME) P30 Lift Planning Standard Committee.
Rigging Engineering Basics serves as the principle text for the Fundamentals of Rigging Engineering Program, the world's only rigging engineering training program. Visit www.riggingengineering.com to learn more and register for the program.
Rigging Engineering Basics is available exclusively from the ITI Bookstore for $139.00
So there it is, go forth crane and rigging professionals and read; read as you have never read before. Now that there is finally a list of books specifically for crane and rigging professionals out there, the internet will never be the same!
To contact the ITI Bookstore with questions or concerns please call 360.225.5858 or email bookstore@iti.com.