In early November 2018, ITI sent Christina Lanham, Director of Operations, and Jacklynn Burbank, Training Solutions Advisor, to the 2018 LiftEx & LEEA Awards event in Milton Keynes, UK. The world of heavy industry includes a wide variety of companies that specialize in construction, civil engineering, utilities and manufacturing, health and safety, and road and marine transport, just to name a few. LiftEx is the only dedicated lifting event where you can find representatives from every heavy industry under one roof.
ITI partnered with Crosby UK to provide demonstrations of the ITI VR crane simulator. Event attendees from around the world were able to experience how virtual reality can be used to enhance any operator training program. The responses from those able to demo the simulator were resoundingly positive. Many were in awe of the realistic immersion of the simulator, and the virtual environment, while at the same time maintaining a small physical footprint with the ITI VR Desktop Hardware option.
The LEEA (Lifting Equipment Engineers Association) awards dinner took place during the LiftEx event as a celebration of the lifting industry's greatest achievements. ITI VR outlasted five other nominees in the Innovative Product of the Year category.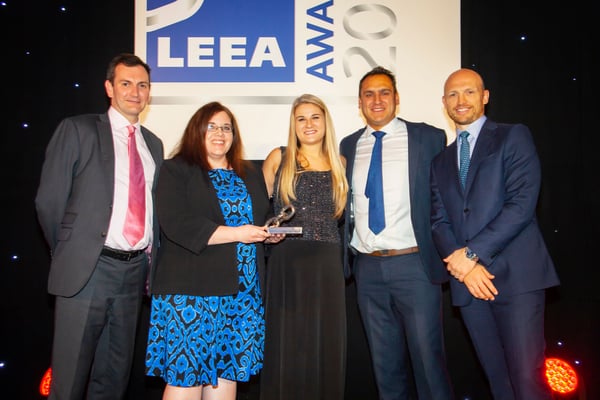 For more information about the annual LiftEx event, CLICK HERE
To schedule a ITI VR demo, CLICK HERE
About LiftEx
LiftEx is the flagship event of LEEA (the Lifting Equipment Engineers Association), the leading global representative body for all those involved in the lifting industry worldwide. The event aims to reduce risk, sustain, promote and provide competitive positioning of the lifting industry and its members through networking and sharing knowledge. It inspires, educates and unites the industry through complimentary presentations, a packed exhibition floor and an awards dinner. Join over 1000 industry professionals from a wide range of vertical markets, including rail, construction, renewable energy, civil engineering, entertainment, road & maritime transport, health & safety, utilities and manufacturing.
Amanda Henry
Amanda began her career at ITI in January 2018. She has a bachelor's degree from Washington State University in Social Sciences with a primary focus in communications and a secondary focus in Psychology. As Marketing Specialist, Amanda's responsibilities include content creation, ad campaign management, and monitoring and reporting on customer satisfaction.