ISO Limited is an international port logistics company, providing innovative stevedoring, marshalling, warehousing, IT, and total supply chain solutions to port industries throughout New Zealand, Australia and the United States. Take a moment to read a post-implementation interview with Dean Carter, GM of Human Resources to learn about ISO Limited's experience in selecting and rolling out ITI VR Crane Simulator.
ISO Limited clearly places value on leveraging technology to add value for its customers and support its employees. What challenges did you (or your customers) face that led you to look for a solution like the ITI VR Crane Sim?

It's a training tool that addresses the challenges faced in a training environment that would be otherwise hazardous and high risk. Time and the resources needed to supervise trainees so they can get suitable time in the seat - which can also reduce productivity - all of those compound to create a lengthy training period. You get those situations where you're not allowed to build tomorrow on what you've learned today. We are concerned with safety first and foremost. Most of the ships rarely have a spare crane to be utilized. It's distracting from what is actually trying to be achieved.

How is your company evolving to meet new demands and what goals is ISO Limited aiming to achieve?

Our goal is to - wherever possible - absorb as much of the slow, low-efficient and high-pressure situations as we can. We look to conduct as much training as possible outside of the live working environment.

When ISO Limited identified the need and value a Crane Simulator would bring, what criteria were you looking for? How did you go about searching?

We'd been searching for a number of years and have never been overly comfortable with what we'd seen. There's a lot of interest in New Zealand to do things like school and training where you have a mock crane to use, but the barriers to that are typically cost and space. What led us to select ITI's VR Crane Sim, is the fact that it could provide VR immersion. We were not interested in the flat screen because it's not as realistic. With the Crane Sim, the experience was so real for the executive team when they tried it, that they felt like it was time to move forward. Particularly with pedestal - there's lots of physical movement within the cab for the operator and understanding that before you get in the real seat for the first time is huge.

What results have you seen since implementing the Crane Sim? What business processes does the Crane Sim enhance?

So far we've seen a mass reduction in seat time on the production end. It's hard to quantify because in the past candidates would go through a theory course and a trainer would teach them for a day or two and then assign to a "buddy" to run the crane if an opportunity arose. Productivity was always having to trump training. This process previously lasted for the duration of 6-8 weeks to get sign off (80 hours + initial training time for an additional two weeks). Now with just one week of simulator use, we are getting people ready to be assessed in a matter of days. We're now able to have 2-3 candidates at a time go through a few hours each on the Crane Sim, for about a week. By the following week, those candidates are then ready to sign off to use the cranes. The result is a total training period of just two weeks. Plus, with the Crane Sim, we're able to simulate and provide other scenarios that our operators wouldn't normally experience, enabling them to become a better operator.

Would you recommend the ITI VR Crane Sim to others?

Absolutely we would recommend it!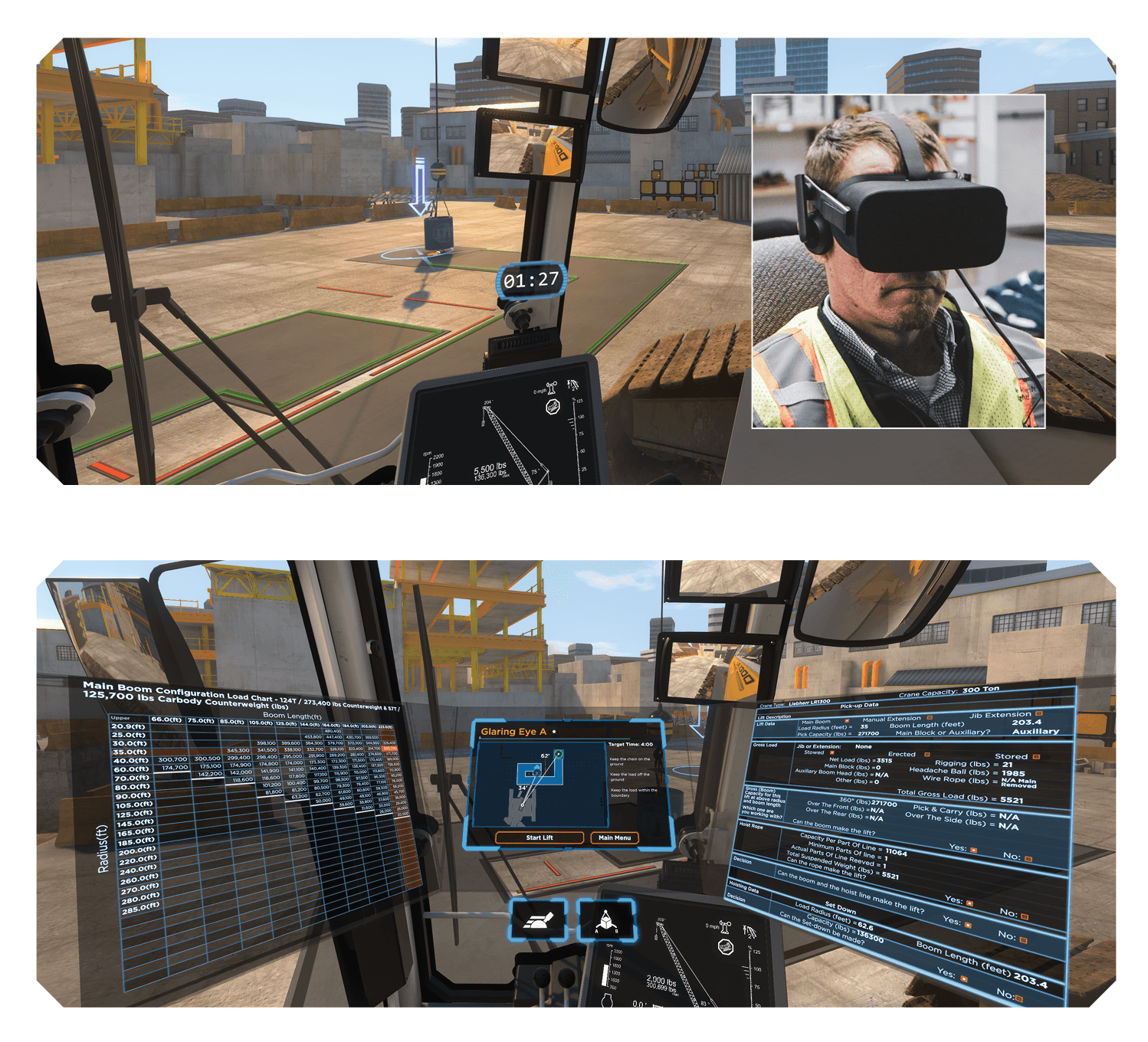 About ITI VR Crane Simulations
ITI VR Crane Simulations encompasses the most widely-used VR crane operator training and assessment platform in the world. ITI VR harnesses the technology of virtual reality, powered by development partner Serious Labs, and is infused with the technical industry knowledge and instructional design of Industrial Training International subject-matter experts to provide fully immersive, hands-on, practical operator training.
At ITI VR Crane Simulations, we believe in:
1-to-1 Authenticity

- In partnership with leading crane manufacturers like Broderson, Liebherr, Link-Belt, Tadano, and Terex, we strive to create a virtual experience indistinguishable from the real world.
Robust, Unmatched & Growing Offering

- With 9 crane models, 500+ scenarios (and more on the way), our community of subscribers benefit from a growing and unmatched breadth and depth of simulation content, without having to pay more for new features.
Continuous Improvement with our Customers

- We never settle and don't expect our customers to either. That is why so many of the world's best-run organizations are a part of the ITI VR community including Bechtel, ExxonMobil, Nucor Steel, General Electric, United Rentals and the US Navy utilize ITI VR Crane Simulations. The pioneering subscription model allows our community members unlimited content updates including, new crane types, training scenarios, and environments as they become available.
To learn more about ITI VR Crane Simulations, visit www.iti.com/vr.
ITI is a global leader in training and technical services for users of load handling equipment and has been a pioneering force in the load handling industry since 1986.
To learn more about ITI, visit www.iti.com.