Last month the ITI and Mazzella teams had the opportunity to connect in person, at Mazzella's Cleveland, Ohio headquarters. Team leads from each company spent a week together engaging in hands-on classroom and shop sessions. The training consisted of ITI's Adult Education course which includes trainer, evaluator, and mentor modules, along with technical training topics. ITI co-founder Mike Parnell presented ITI's Overhead Crane Operator and Basic Rigging and Inspection Programs, complete with written tests, workplace scenarios, and skits demonstrating effective mentoring and best practices for conducting evaluations. Dr. Amy Cottle developed and conducted the Adult Learners session, along with the Mentors workshop. The final training day included Dr. Cottle recapping the adult learner principles that were implemented in the two delivered courses throughout the week.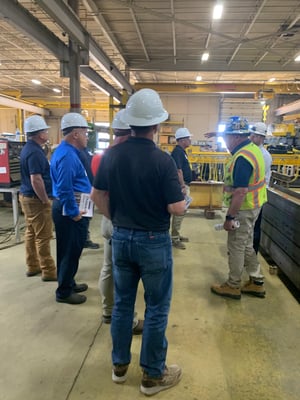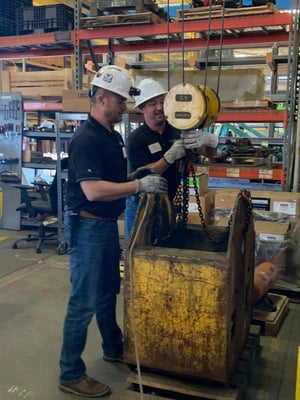 During the week, a total of ten Mazzella trainers were trained to deliver ITI's Basic Rigging and Overhead Crane Operator courses. On the final day of training, ITI Vice President of Sales, Amanda Long spent time with the Mazzella team, educating them about ITI's vast product and service library, which Mazzella will now be authorized to distribute. She noted, "I was thrilled to see the the Mazzella Account Managers' enthusiasm for the new curriculum and their ability to make these additional training tools available to their customers." Amanda also had the opportunity to invite a number of participants to test drive ITI's Overhead Crane VR Simulator that was brought to Cleveland for their review.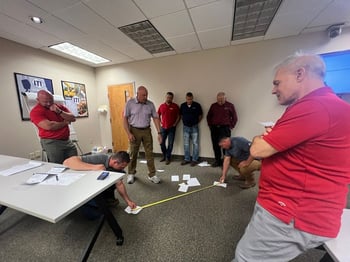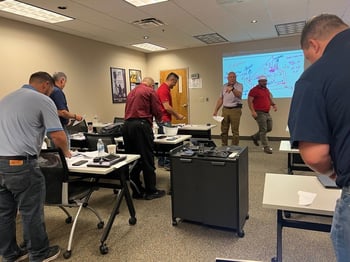 In October 2021, we made the anouncement that Mazzella and ITI have decided to deepen their now 30+ year relationship. The Train-the-Trainer session helped to achieve a significant key partnership goal. Both companies are eager to implement further initiatives in the second half of the year.
About Mazzella Companies
Mazzella Companies employs over 800 individuals in 30+ locations in North America. Mazzella is one of the largest independently-owned companies in the overhead lifting and rigging industries and is a manufacturer and distributor of a wide range of lifting products for industrial, commercial, and specialty applications. In addition, they are a leading manufacturer of world-class overhead cranes, specialty machinery, and overhead crane services. Some of the major markets Mazzella serves are: Mining, Steel, Oil & Gas, Construction, Energy, Shipbuilding, Vehicle and Durable Goods. Mazzella's diverse portfolio includes Sheffield Metals, a manufacturer and distributor of coated and bare metal products for engineered metal roof and wall systems, and New Tech Machinery, a manufacturer of portable roof panel and gutter machines recognized as the world's finest portable rollformers. For more information about Mazzella Companies, visit mazzellacompanies.com.
About Industrial Training International (ITI)
Industrial Training International (ITI) is a global leader in the design and delivery of learning solutions for organizations conducting crane, rigging, and load handling activities. Founded in 1986, the company originally specialized in instructor-led training, field services, and consulting. ITI has since grown to also produce live online, and on-demand courses delivered via the ITI Learning Hub and has been recognized with numerous industry association awards for its groundbreaking virtual reality crane and equipment simulations solution. For more information about ITI, visit iti.com.