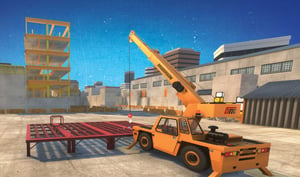 CARRY DECK VR CRANE SIM
Broderson IC-80

Hands-on carry deck operator training has never occurred outside of the actual machine as simulation has never been available for this equipment. The VR Carry Deck Operator Simulator is a virtual replica of a Broderson IC-80 Carry Deck now making training and assessment of carry deck operators on-demand, self-paced and in an engaging training environment.
Broderson IC-80 Specs
• Capacity on Outriggers: 18,000 lb
• Pick & Carry Capacity: 11,700 lb
• Height: 7' 3"
• Width: 6' 6"
• Max. Tip Height: 46'
• Max. Horizontal Reach: 40'
VR SIMULATION

HARDWARE & CONTROLLER
ITI offers two system types to give you a fully immersive training experience, each with their own advantages.
DESKTOP VR STATION: Convenient, Cost Effective
The desktop VR simulator can be attached to almost any desk surface. Units are completely portable and can be checked as standard luggage on any passenger flight.