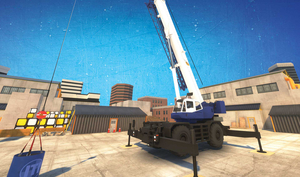 ROUGH TERRAIN VR CRANE SIM
The ITI VR Rough Terrain Crane Simulator is the most comprehensive & widely used VR crane training simulator in the world

The Tadano GR-1000XL hosts a loaded, one-man cab that performs both crane and drive operations. The steel cab is equipped with a tilt-telescoping steering wheel, a three-way adjustable operator seat, air conditioning, a hot water cab heater, foot operated controls, safety glass throughout, and sliding door access.
Tadano GR-1000XL
• Max. Lifting Capacity: 100 tons
• Boom Length: 39.4' - 154.2'
• Max. Working Radius: 177'
• Jib Length: 33.2' or 58.1'
• Counterweight: 22,000 lb
• Drive: 4x4x4
VR SIMULATION

HARDWARE & CONTROLLERS
ITI offers two system types to give you a fully immersive training experience, each with their own advantages.
DESKTOP VR STATION: Convenient, Cost Effective
The desktop VR simulator can be attached to almost any desk surface. Units are completely portable and can be checked as standard luggage on any passenger flight.
MOTION-BASE VR STATION: Fully Immersive, Full-Body Control
The motion-base VR simulator provides a true crane cab experience that includes responsive foot pedals, operator Chair, robust hand controls, and full motion platform for the ultimate VR training experience.