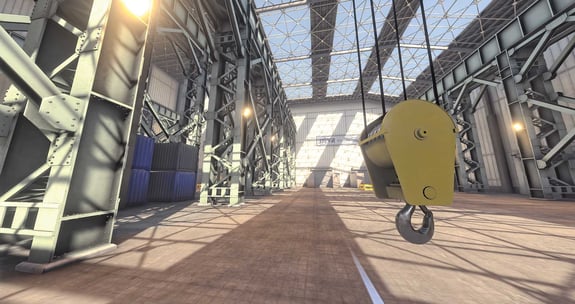 Overhead BRIDGE CRANE SIM
Cab, Bellybox, or Virtual Pendant Operation

Bridge Cranes are widely used overhead crane models across many industries, typically in high production environments that pose challenges to training including availability of the crane and risk of unskilled personnel in the production area. The ITI VR Overhead Bridge Crane Simulator utilizes cab-operated as well as remotely operated controls with a pendant or belly-box.
VR SIMULATION

HARDWARE & CONTROLLERS
ITI offers two system types to give you a fully immersive training experience, each with their own advantages.
DESKTOP VR STATION: Convenient, Cost Effective
The desktop VR simulator can be attached to almost any desk surface. Units are completely portable and can be checked as standard luggage on any passenger flight.
MOTION-BASE VR STATION: Fully Immersive, Full-Body Control
The motion-base VR simulator provides a true crane cab experience that includes responsive foot pedals, operator Chair, robust hand controls, and full motion platform for the ultimate VR training experience.