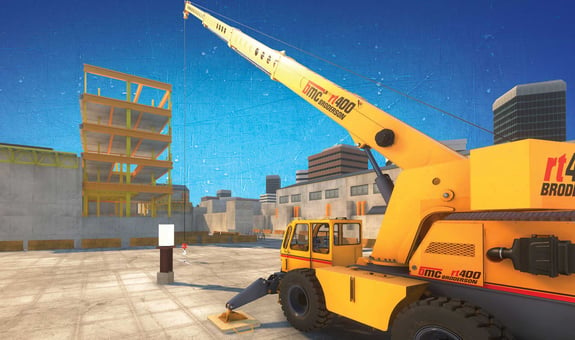 R/T CAB FORWARD VR SIM
Broderson RT400

Rugged, heavy-duty, field proven design, and now with improved operator access and cab entry, make the Broderson RT-400 Rough Terrain Crane the smart choice for end users and rental fleets. The RT-400's compact footprint, strong pick and carry capability, simple controls and beefy construction have made it the leading cab down rough terrain crane for over a decade. The RT-400 delivers higher pick capability, longer reach, greater hydraulic output and precise operator control – all in a package that provides reliable day in day out service.
Broderson RT400
• Capacity on Outriggers: 40,000 lbs
• Boom Rotation: 360 Continuous
• Tip Maximum Height: 98'
• Horizontal Reach: 85'
• Gradeability: 70% (34 degrees)
VR SIMULATION

HARDWARE & CONTROLLERS
ITI offers two system types to give you a fully immersive training experience, each with their own advantages.
DESKTOP VR STATION: Convenient, Cost Effective
The desktop VR simulator can be attached to almost any desk surface. Units are completely portable and can be checked as standard luggage on any passenger flight.
MOTION-BASE VR STATION: Fully Immersive, Full-Body Control
The motion-base VR simulator provides a true crane cab experience that includes responsive foot pedals, operator Chair, robust hand controls, and full motion platform for the ultimate VR training experience.