Diver Safety Simulator Info Sheet
With ITI's Driver Safety Simulator, drivers can improve their skills, decrease the chance of accidents, and increase situational awareness.
The simulation system helps to build essential muscle memory in a controlled learning environment with zero risks. Drivers can quickly become more coordinated, comfortable, and confident.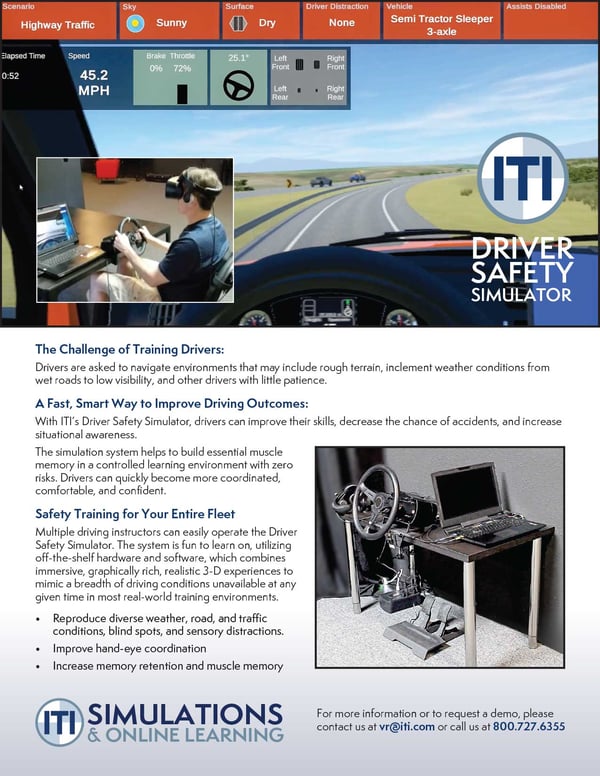 Download Driver Safety Sim Info Sheet
Additional Simulation Solutions
ITI Simulations & Online Learning is committed to getting the highest quality simulation and online learning training solutions to end users by any means necessary. Delivery methods include virtual reality (VR), mobile, and browser based modules. Can't find a solutions to meet your unique needs? Learn more about collaborating with the ITI Studio for custom learning content development.
TOUCH
VR Crane Simulations
The largest and most authentic crane simulation library on the planet. Used by world-class organizations to solve unique operator challenges.
More about this service
TOUCH
Construction Hazard ID
Fulfills the requirements of ISO/IEC 17024:2012 General Requirements for Bodies Operating Certification of Persons.
More about this service
TOUCH
Success Stories
Learn how industry leaders are finding success with ITI Simulations & Online Learning
More about this service