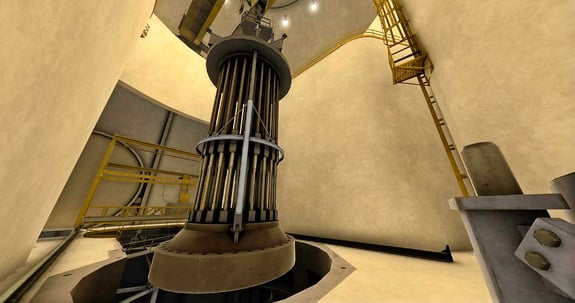 POLAR CRANE VR SIM

175 Ton Capacity - Built to Handle Pressurized Water Reactor (PWR) Components
The ITI VR Polar Crane, sometimes referred to as Reactor Servicing Cranes, operate on a circular track or runway, within containment/reactor facilities. Polar cranes' primary function is removal and replacement of reactor components, and are also utilized during the refueling and outage process.
Due to the highly specialized environment and use cases, training for polar crane operators presents a number of challenges.
VR SIMULATION

HARDWARE & CONTROLLERS
ITI offers two system types to give you a fully immersive training experience, each with their own advantages.
DESKTOP VR STATION: Convenient, Cost Effective
The desktop VR simulator can be attached to almost any desk surface. Units are completely portable and can be checked as standard luggage on any passenger flight.
MOTION-BASE VR STATION: Fully Immersive, Full-Body Control
The motion-base VR simulator provides a true crane cab experience that includes responsive foot pedals, operator Chair, robust hand controls, and full motion platform for the ultimate VR training experience.