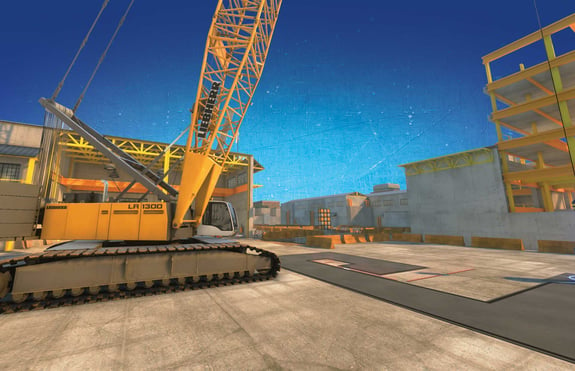 HEAVY LIFT CRAWLER VR SIM
Liebherr LR1300

The newest generation of LR 1300 has a lifting capacity of max. 300 t. The crawler crane impresses with many innovative assistance systems, which both increase operational safety as well as simplify handling. With the new cabin design, the crane appears in elegant design and with many features for high operator comfort.
Liebherr LR 1300
• Max. Load Capacity: 331 US tons
• Max Hoist Height: 644'
• Max. Working Radius: 469'
VR SIMULATION

HARDWARE & CONTROLLERS
ITI offers two system types to give you a fully immersive training experience, each with their own advantages.
DESKTOP VR STATION: Convenient, Cost Effective
The desktop VR simulator can be attached to almost any desk surface. Units are completely portable and can be checked as standard luggage on any passenger flight.
MOTION-BASE VR STATION: Fully Immersive, Full-Body Control
The motion-base VR simulator provides a true crane cab experience that includes responsive foot pedals, operator Chair, robust hand controls, and full motion platform for the ultimate VR training experience.