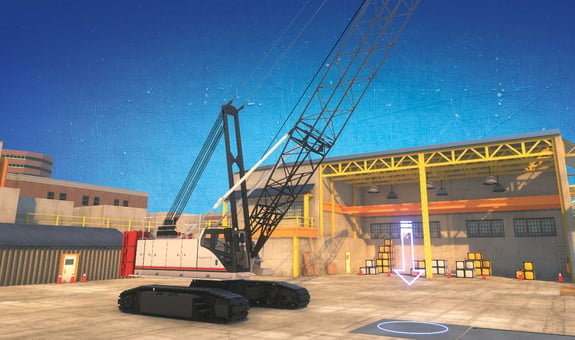 LATTICE BOOM CRAWLER VR CRANE SIM
Link-Belt 218 HSL

Link-Belt's long history of quality and power is captured in the 218 HSL. This machine provides an optimal starting point for lattice boom crane operator training in the ITI VR Simulator. The 110-ton crawler model capable of 154 feet of main boom length is a versatile model for operator screening, training and assessment. The Link-Belt team and ITI VR made the 218 available for the community in the Spring of 2017 with over 10 hours of training and assessment scenarios and joystick configurations set to mirror a field crane.
Link-Belt 218 HSL Specs
• Max. Lifting Capacity: 110 tons
• Boom Lengths: 40'- 230'
• Fixed Jib Lengths: 30' - 75'
• Tip Height (Fixed Jib): 279'
• Working Weight: 192,735 lb
VR SIMULATION

HARDWARE & CONTROLLERS
ITI offers two system types to give you a fully immersive training experience, each with their own advantages.
DESKTOP VR STATION: Convenient, Cost Effective
The desktop VR simulator can be attached to almost any desk surface. Units are completely portable and can be checked as standard luggage on any passenger flight.
MOTION-BASE VR STATION: Fully Immersive, Full-Body Control
The motion-base VR simulator provides a true crane cab experience that includes responsive foot pedals, operator Chair, robust hand controls, and full motion platform for the ultimate VR training experience.