Overhead Bridge Crane
Virtual Reality Simulation Training
The Overhead Bridge Crane VR Simulator is currently under development and expected to be available to the ITI VR Community in the first few months of 2018.
Bridge Cranes are widely used overhead crane models across many industries, typically in high production environments that pose challenges to training including availability of the crane and risk of unskilled personnel in the production area. The ITI VR Overhead Bridge Crane Simulator utilizes cab-operated as well as remotely operated controls with a pendant or belly-box.
Join the following organizations in the Technical Advisory Group to provide your input in how we develop these crane models by contacting vr@iti.com.
Hardware Options
Desktop Hardware for Cab-Operated Overhead Cranes, and Remotely-Operated Hardware including Pendant and Belly-Box Controls
Convenient, Cost-Effective
The desktop VR simulator can be attached to almost any desk surface. Units are completely portable and can be checked as standard luggage on any passenger flight.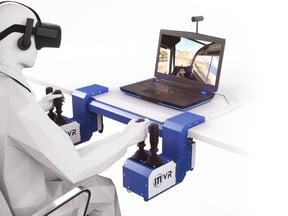 Motion-Base Hardware for Cab-Operated Overhead Cranes
Fully Immersive, Full-Body Control
The motion base VR simulator provides a true crane cab experience that includes responsive foot pedals, operator chair, robust hand controls, and full-motion platform.