The tower crane simulation scenarios are in development and expected to be available to the ITI VR Community in the Spring of 2018.
Convenient, Cost-Effective
The desktop VR simulator can be attached to almost any desk surface. Units are completely portable and can be checked as standard luggage on any passenger flight.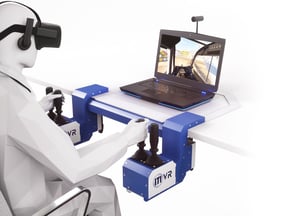 Motion-Base Hardware
Fully Immersive, Full-Body Control
The motion base VR simulator provides a true crane cab experience that includes responsive foot pedals, operator chair, robust hand controls, and full-motion platform.